School Facilities
Housing system
School adopts housing system for all standards, aiming to create competitive atmosphere for each houses. School has four house named Agni, Varun, Pruthvi, & Ambar house. Each house conducts morning assembly for a week & organize many cultural events assigned to each house.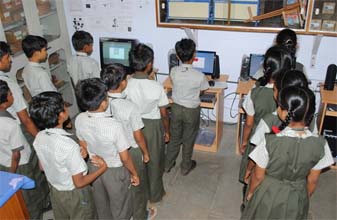 School has, for attendance, the  bio-metric system & computer aided learning  project  promoted by tribal department aiming to cover school staff & students under this system. School also provides educational material to facilitate students & teachers from this system. School maintains average attendance of 98% every month. The said bio-metric attendance project is monitored by tribal department office situated in each tribal district of Gujarat. The said project is measured from TSP Songadh in Tapi district.
The school has well equipped lab for science education for Chemistry, Biology & Physics. Furthermore, school has a big library, music room & facilities for sports activities.
Government  initiated set com project with the help of UNNATI organization, Ahmedabad to promote English communication skill for 9th standard students. This programme involves live audio-visual class room interaction telecasted by BISAG studio, Gandhinagar.
School provides night reading facilities to all secondary and senior secondary students at school. We aim to give extra teaching for helping to promote their learning skill with the help of presence of teachers and M.O.D. teachers.
Various clubs prepared for students
School management has set up 20 various clubs involving more than ten students in each club aiming to provide extra knowledge, and for this school has formed various club like Adivasis Culture and Documentation Club, Photography Club, Science Club, Maths Club, Sport Club, Kitchen Club, Office Maintain Club, Botany and Zoology Club, Jal Sainik Club with the help of teachers assigned for this. These clubs activities would promote hidden talent of students.
Well-furnished Auditorium
School has arranged big well furnished room for various programmes of school including television watching and audio visual activities. The  school uses  evening assembly in auditorium.
Students Police Cadet Programme initiated by police department
Ours school is the first in Tapi district to be selected for organizing police cadet corps scheme for the students of 8th standard. School gives basic police type indoor and outdoor training to school students. School allotted four periods per week for this activity.
Well-established Class Rooms
School has well-furnished class room facilities with big and airy room with audio visual device connected with the sound system. Each classroom is having audio-visual facilities for students.
School has provided all basic facilities to the tribal students. School has audio visual facilities helping students to study better at better.
School installed new R.O. at each lobby, having enough water facilities for students. Also installed new R.O at both hostels with dining hall.
School promotes positive atmosphere to reach students for taluka, district and state level competitions. School campus is spread over 13 acres and having enough sport equipments and instruments. Students do yoga and mass drill practice early in morning with the help of P.T. teachers.
Extra spoken / cursive class
School provides extra classes to enhance English skill for the tribal students. We organize extra cursive and spoken English classes for new students admitted in 6th, 7th and 8th std.
Concept of "Each one, Teach one"
School adopts a better concept for all students. Each one, Teach one concept-aiming to add more scholar students for entire class improvement. Selected  students promote said  skill to provide more knowledge to other students.
School has arranged for extra class for all students and gives extra remuneration for taking extra class for 10,11,12 Std. students after school hours.
Month wise test for students
School exam committee evaluate student on month wise test to be taken with the help of class and subject teachers and display result on board on the 5th day of every month and organize meeting monthwise – parents of weak students.
Centre for various exam at school
School conducts many competitive exam for the students and promotes better atmosphere to give more competitive exam regarding the better prospect.
School management does arrange parent meetings once in a two months and also forms committee of parents for school.